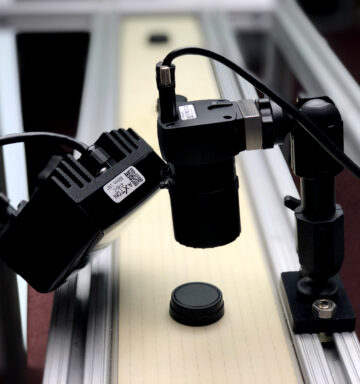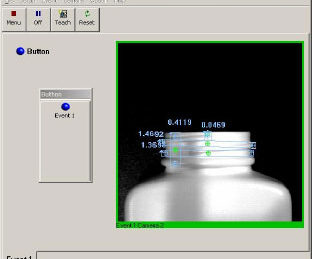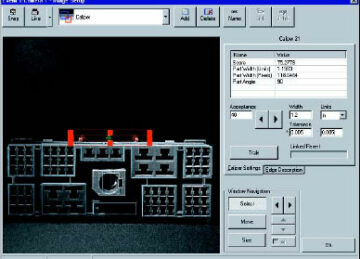 CUSTOM INSPECTION
QualityStation™ is a general purpose vision system with a vast array of high-end inspection tools. Event driven, with the adaptability to incorporate multiple cameras, makes QualityStation™ the preferred vision system for most any inspection application. Whether integrated with existing material handling and control equipment for in-process inspections, or used manually for statistical sampling, QualityStation™ will streamline the manufacturing process.
Flexible I/O architecture allows for connection to nearly all existing control equipment utilizing digital I/O, Ethernet & serial data communication, and barcode readers.
Event-driven I/O is uniquely suited to short-run, JIT production methods. It permits QualityStation™ to inspect a variety of different products by simply identifying them via a unique input identifier like a barcode, Ethernet or serial data string, or digital input, automatically loading the event's inspection criteria and executing the inspection. Event specific inspection criteria are executed and window/image resultant outputs are set with 100% traceability available by product ID. An integrated database with ProcessRx™ provides detailed SPC reports that are easily accessed and printed over the network .
QS Inspector™ inspects parts for the smallest of defects and is ideal for low speed/low volume production runs or applications where full automation is too expensive. For fully automatic, high volume/high speed inspections see our QS Examiner™ and QualityStation™ products.
For the QS Inspector™, parts up to 4 inches square can be placed in a fixture or nest and inspected by one or more cameras. The after inspection options are fully customizable and are based on your requirements. Some typical output actions include, marking good/bad parts with a paint or marking system, holding the part and requiring operator interaction for rejection or rework, and activating an audible and visual alarm.
Like the QS Examiner™, the QS Inspector™ vision inspection machine is based on the reliable Windows Embedded 7 operating system utilizing Avalon's QualityStation™ vision software. There is no special programming language required for implementation and all attributes are configurable in the menus of the system. Sensor and control functions are handled in the industrial computer. Part counting, failure tracking, and process limit controls are adjustable features of the QS Inspector™ product. Up stream equipment can be signaled when failure limits are reached. Job tracking, statistical reports, failure images and event logs are accessed through the ProcessRx™ documentation and reporting database and can be accessed remotely via the local LAN.
Whenever a bad part is shipped to a customer there is a whole series of events that cost money, down time, and customer dissatisfaction. What is peace of mind worth? Knowing that your customer has just received parts that were 100% inspected builds confidence in you as a supplier.
Satisfied customers buy more goods and cost less to maintain. The price of finding a new customer is extremely costly in time and money. Customers rarely call you when your parts are acceptable.
QS Examiner™ inspects parts for the smallest of defects. Parts that are less than 3 inches on a side can be fed through a feeding system into a separator mechanism at a rate of between 1 and 4 parts per second. Up to 4 high-resolution cameras capture images to provide inspection of the parts from different angles. The system will automatically sort the parts into "Good" and "Bad" locations. QS Examiner™ can be configured to sort for multiple defect types.